DIY Christmas Wreath
Last year I attended a wreath workshop when we lived in Tacoma, WA at the most amazing girl-boss event space, fittingly named GRLS Studio. One of the GRLS Studio owners, Kyle, led us through making our own wreath and showed us how simple and amazing the process is. I left with a beautiful wreath that day and felt so accomplished that I had created something beautiful to hang in my home. There's such a sense of pride and accomplishment after completing a creative project, something that usually sticks with me for awhile. I love seeing it hang on the door all during the holidays and having the pride that I created it!
A week ago I made a Christmas wreath to place on our front door and posted the photo to my social media and had such a great response from friends and family. There were so many comments from friends and family inquiring how I made the wreath myself. Several of my girlfriends here in Germany asked if I would teach them how to make one and the idea of hosting a workshop came to mind to share some creative juices with them.

I think there's a myth that it's too expensive and hard to make your own wreath. It's the exact opposite! Once you have your wire frame and paddle wire, you will have those for years to come. The only thing you have to buy new each year is the fresh greens to create with! For our wreath making workshop I had three friends over to my house and they each made two wreaths (18 in. wire frame) and I also made a wreath out of the leftovers. I had purchased all the greens and divided up the cost. In total, the greenery came to 45 euros. Divided by the 3 people making wreaths = 15 euros per person to make two wreaths! See how affordable it can be to make your own!?
Supplies you will need:
Wire wreath frame (either 12 or 18 in depending on your preference) - around $5 on Amazon or your local craft store

Green paddle wire - $4 from Amazon or your local craft store

Assorted greenery - I like to make my wreath look fairly textured and typically use about 3 different kinds of greenery. Some examples are: evergreen, fir, seeded eucalyptus and true blue eucalyptus. Around the holidays it's easy to find the evergreen type greenery all over at grocery stores or hardware stores. Here in Germany I grabbed the greens from OBI which is our equivalent to Home Depot. I also purchased two kinds of eucalyptus from the flower shop in our village. You should be able to find it at any flower shop and can order per stem or bunch. I also foraged by our house for some greens--look around your yard or neighborhood to see if you can trim a little off!

Wire cutters

Garden shears

Plastic drop sheet or drop cloth

Positive attitude (yes, you must have one of these!)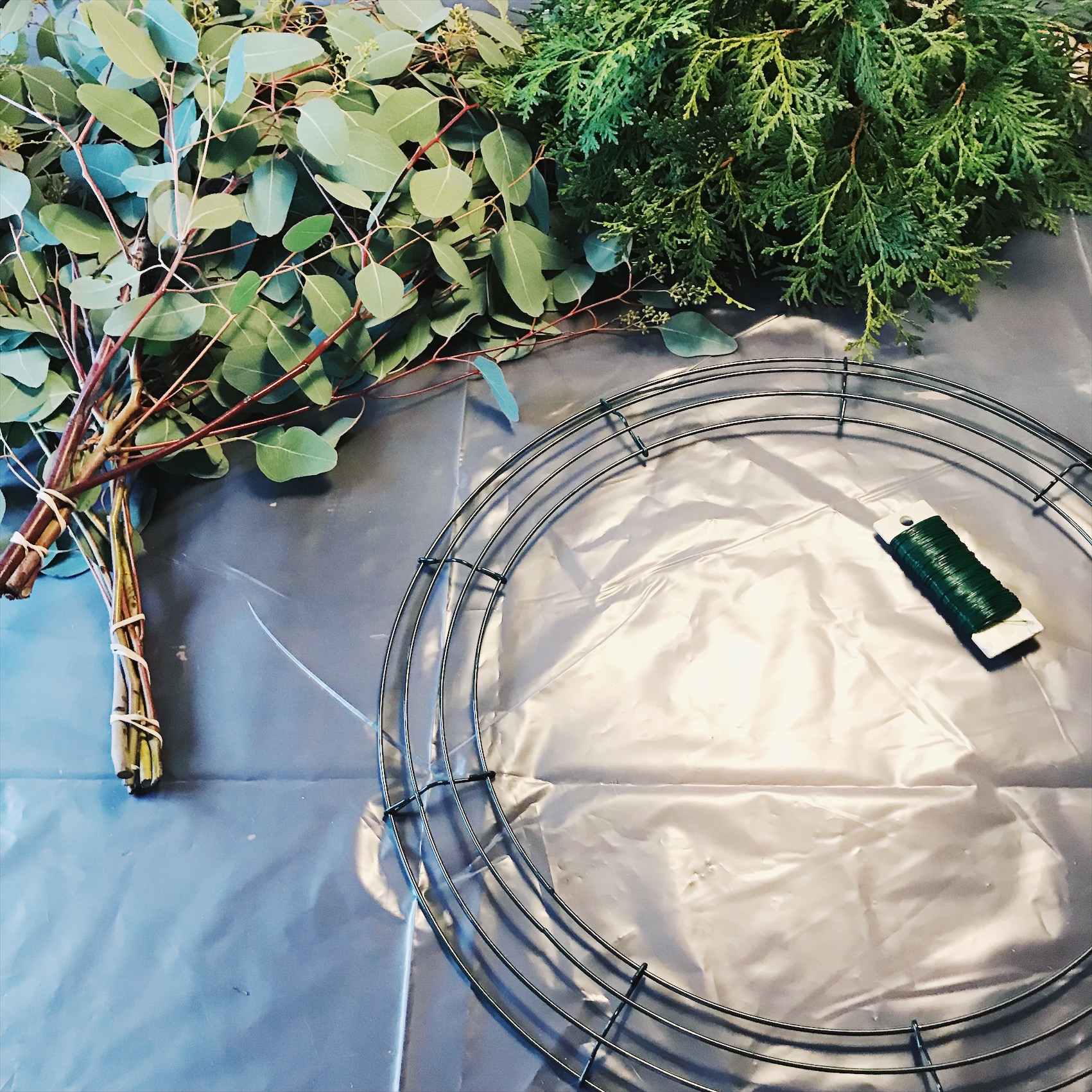 Make sure you have all your supplies! I like to lay down a plastic drop sheet on my table that I'm making the wreath on so that the mess in the end is all contained and easy for clean up.
Use your green paddle wire to wrap about 1.5 in. around the cross-beams of the wire wreath form. This will be the beginning place of your wreath to start holding the greenery on.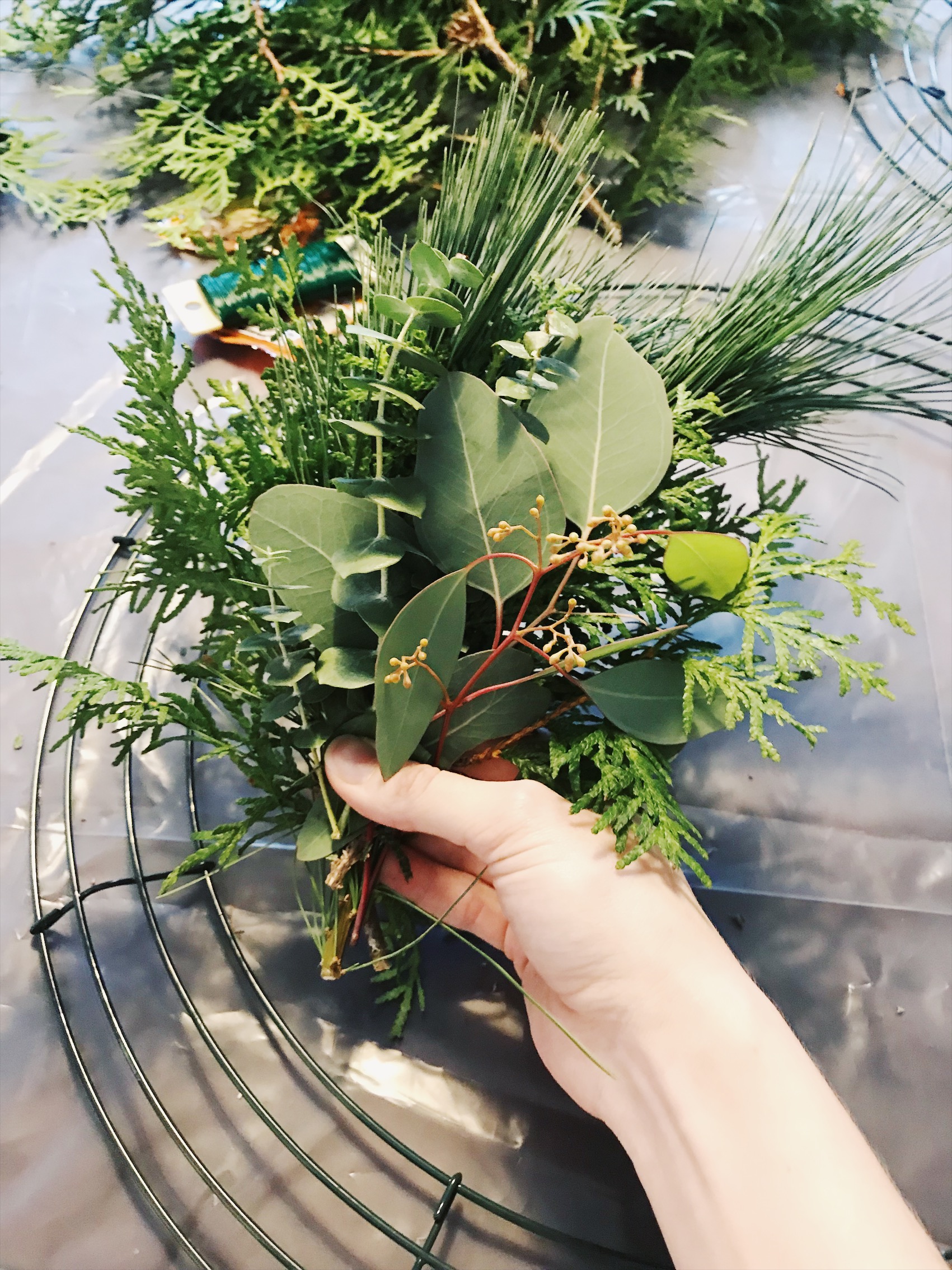 Cut about 3-5 sprigs of your greens and arrange in a small bundle to your liking. Hold the small bundle up to the wreath form to see if it needs to be smaller, larger, more flowing based on your desire for the overall look of the wreath. Make sure that each bundle you create covers the wreath form, you don't want any of it to show at the end! It's also helpful when picking sprigs for your bundle to make sure some of the greens form in the direction of the wreath--this will help to create the natural curve of the wreath.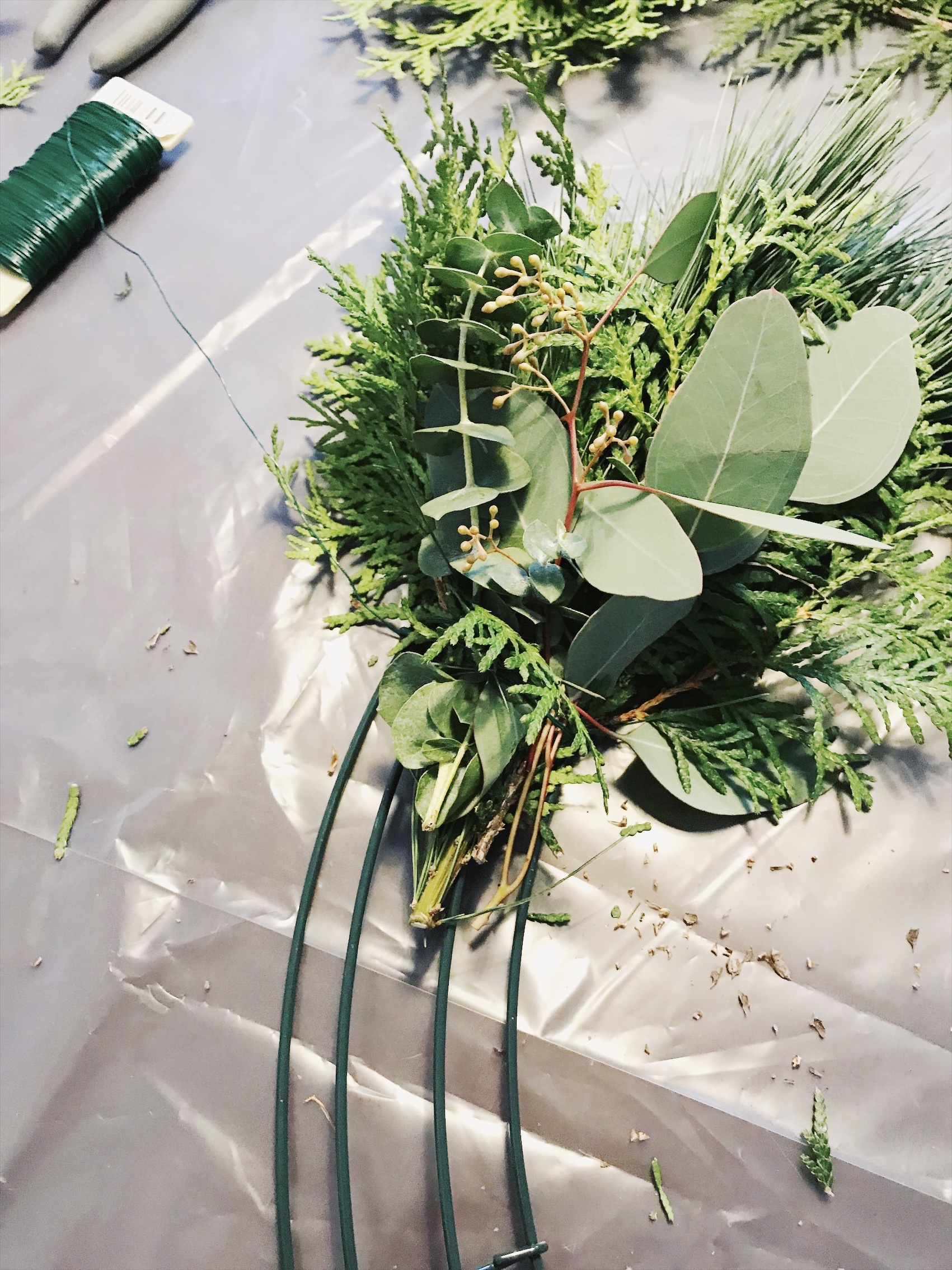 Once you have a small gathering, press it against the wire form where you have started with your paddle wire. Press the greenery down with one hand and start wrapping the paddle wire around the greenery you have gathered, wrap about 1 inch up from the bottom of the bundle, secure the bundle about 3-4 times making sure it's wrapped tightly. Do not cut the wire! We are just going to keep wrapping it around each bundle until it's finished.
Continue with your next greenery bundle, placing it in the same direction as the first bundle--lay it flat on top of the first bundle, with a little overlap of it so that it covers the entire part you wrapped with the paddle wire. Once you have it in place, wrap the second section with the wire 3-4 times, wrapping tightly.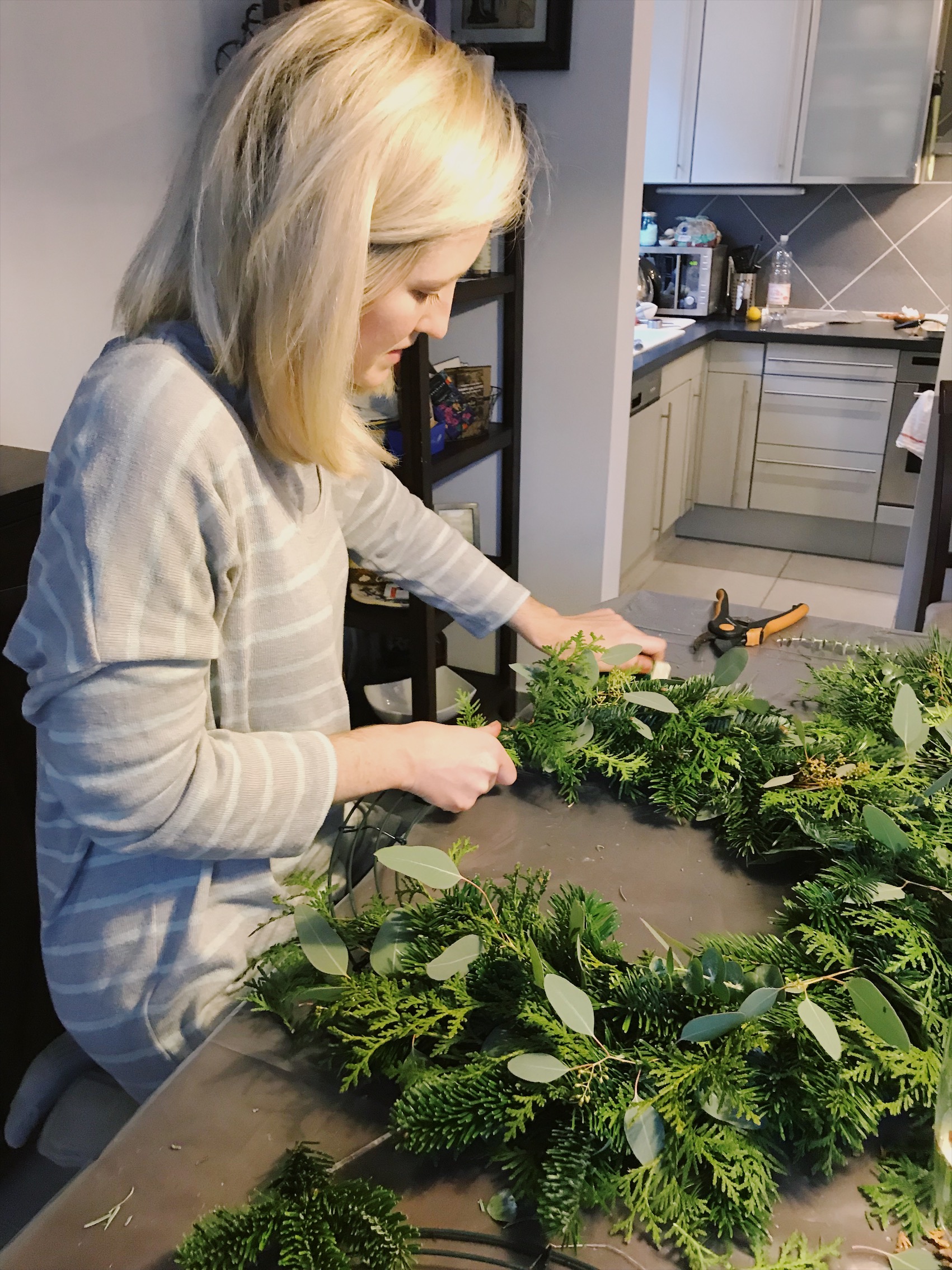 Make your way around the wreath forming greenery bundles and wrapping the wire until you reach where you started. Make sure the last bundle is thick enough to lay under the first bundle you started with. Hold up the first bundle and wrap the wire around the final bundle and adjust the greens as needed to make sure all the wire is covered.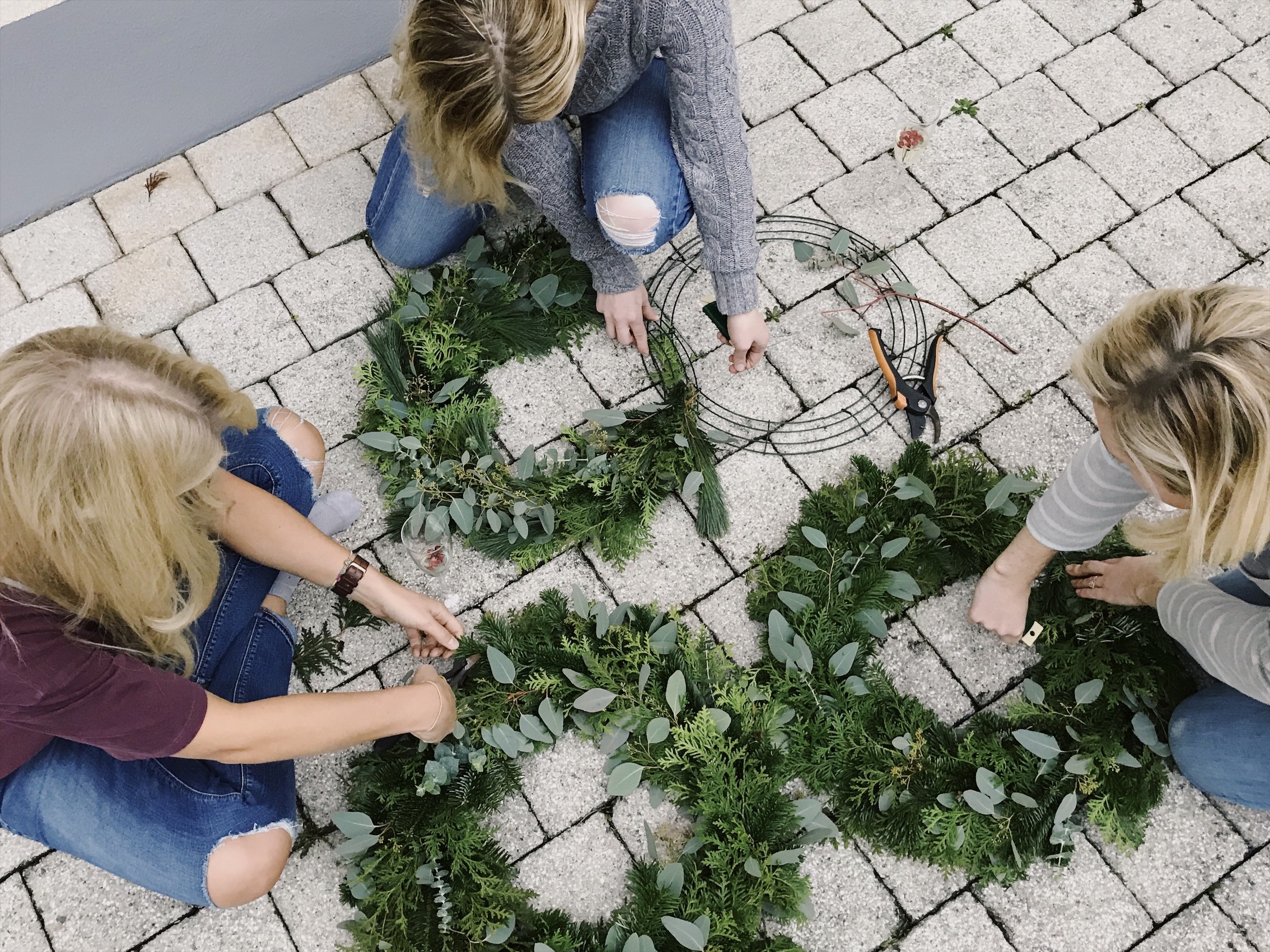 Turn the wreath form over and cut the wire an inch from the wreath form. Wrap the last inch piece tightly around the wire form. Bam! You are done! It is really that simple to make your own wreath! Now you can hang up your wreath and enjoy all throughout the holidays--or until February when you finally decide to take it down!
I had so much fun hosting these three sweet ladies at my house for our wreath workshop! We sipped champagne, ate some delicious snacks and created some beautiful wreaths while Christmas music played in the background. Everyone left with two completed wreaths! I think this was the start of a yearly tradition with all these friends!